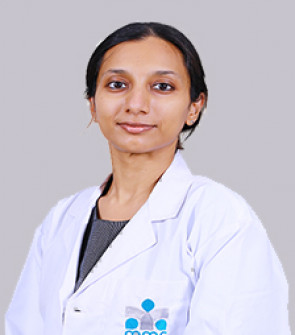 Dr. Moona Abdul Kadiru
Associate Professor
Department Of Anaesthesiology
Dr Moona Abdul Kadiru earned her MBBS from Jubilee Mission Medical College & Research Centre , Thrissur in the year 2010. She went on to pursue her MD in Anaesthesiology from Kerala University of Health Sciences and completed the course in the year 2015. She served as Senior Resident in Pariyaram Medical College. She joined our prestigious institution as Assistant Professor on 15 January 2018. She subsequently got promoted to the position of Associate Professor in the year 2020.
Education
MBBS , MD (Anaesthesiology)
Accomplishment
Ultrasound guided three in one bolock : A comparative study with spinal anaesthesia in lower limb surgeries (MEDPULSEB Publising Journal of Anaesthesiology Volume12, Issue 2 November)

Effects on Non-depolarizing muscle relaxant by differenmt doses of magnesium sulphate to conduct relaxant aneaesthesia (MEDPULSEB Publising Journal of Anaesthesiology Volume13, Issue 1 January 2020).
Other Doctors In Department Of Anaesthesiology