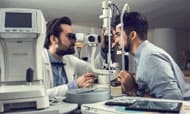 Ophthalmology

About the Department
The Ophthalmology department has the expertise to treat all kind of eye related problems ranging from routine eye examination to other conditions of the eye and surrounding structures. Our team of ophthalmologists is fully equipped with state of the art diagnostic and therapeutic equipments for treating glaucoma, cataracts, corneal and external diseases, aesthetics, paediatric ophthalmic diseases and disorders.
Clinical Focus
Ophthalmology department is well equipped with outpatient department, 20 bed ward and operation theatre. We have 5 ophthalmologist for diagnosing and treating all types of eye diseases. Our department is focused on diagnosis and treatment of cataract, glaucoma, corneal diseases, strabismus, Ocular aesthetic disorders, diabetic retinopathy etc….
We are doing our community services with CAMPS, free eye checkups & free cataract surgery. We are also conducting free OPD facility for patients above the age of 65 years.
Our department is attached with optical shop and contact lens clinic. We have anesthesia department and intensive care unit for managing all complicated surgeries.
Infrastructure
Cataract Surgeries


☆ Phacoemulsification (Key hole surgery)under topical anesthesia, SICS, ECCE surgeries

2° 10L Implantation


☆ Iris claw lens, scleral fixated 10L

Glaucoma Diagnosis


☆ HFA, Pachymetry

Glaucoma surgery


☆ Trabeculectomy

Corneal Surgery
☆ Management of corneal, ulcer


☆ Corneal transplantation (applied for registration)




☆ Corneal tattooing




☆ Amniotic membrane transplantation




☆ Glue-BCL, Conjunctive hooding

Management of occular emergency


☆ Corneal tear repair




☆ Management of chemical injury

Strabismus Surgery
Out Patient Services
For booking, please contact: 0496 2701800
Other Activities
Departmental activities
The Department of Ophthalmology is well equipped with all modern equipments to facilitate complete ocular examination.
Out patient department functions from Monday to Saturday from 8:am to 2:pm. We have 30 bedded inpatient facility