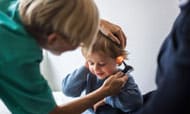 Paediatrics

About the Department
Tom Stoppard once said, "If you carry your childhood with you, you never become older". And the Department of Paediatrics at Malabar Medical College with it sincere commitment to improve, The health of children in our society by modelling the best practices of general Paediatrics & promoting the role of general paediatrician to care, commit and be compassionate so as to make sure each child experiences sweetest childhood, as light as feather. Our Department has an ensemble of top paediatricians in India, with their unparalleled experiences, earned through more than 30 years of clinical practice. Our prime focus revolves round quality management, administration & teaching as well. We boast of our paediatricians as well qualified, knowledgeable and amongst the finest available in India, who is completely dedicated towards restoration of child health. And it's our promise, that we are always here to hear you!
Clinical Focus
ASTHMA
Asthma is the most common chronic disease of childhood, Which leads to recurrent episodes of Wheezing, Breathlessness, Chest tightness & Coughing (Particularly at night or early morning). Risk factors includes, Allergens, Maternal diet during Pregnanacy & Lactation, Pollutants, and Microbes etc. Typical features of Asthma includes afebrile episodes, personal atopy, family history, Exercises/activity inducted symptoms, History of triggers, seasonal exacerbation & relief with bronchodilators. Our department is well equipped with all supportive measures to overcome all the challenges associated with childhood Asthma & above all with incomparable. Pediatrician who are renowned for their contribution in the management of Asthma
The telltale sign is painful sores in the Mouth & Throat & Virus pops up mainly during the summer & fall is highly contagious. Sores are often accompanied by red blisters on the hands and soles. That last seven to ten days.
EAR PAIN
Ear pain in children can have many causes, including Otitis media, Swimmer's ear, Pressure from a cold or Sinus's infection, radiating pain from teeth etc. To state differences, we have our excellent team of Paediatricians at your services.
BRONCHIOLITIS
Bronchiolitis is common is infants and young children during the cold & flu season, Often caused by virus. Our treatment recommendations are geared towards making your child comfortable with close monitoring for any difficulty in breathing, eating or signs of dehydration.
We have a neonatal ICU, Under the guidance of immensely talented doctors working hand in hand with the specially trained skilled assistants are submissive round the clock to address almost all problems of a neonate such as preterm birth, Infant respiratory distress syndrome, Neonatal sepsis, neonatal jaundice, meconium aspiration syndrome, IUGR, Necrotizing enterocolitis, neonatal conjunctivitis, transient tachypnoea of newborn etc. Thus our team ensure your baby's journey from womb to lullabies smoothened.
Infrastructure
We offer a complete range of healthcare services right from the time of birth, all through their growth as a part of our outpatient and inpatient departments.
Inpatient care:
90 Bedded inpatient care unit places department of paediatrics at Malabar Medical College, at the top of best providers of child healthcare.
Critical Care:
Supported by trained staff with NICU and PICU care.
Care of illness
:
Supported by our Multidisciplinary specialty services including General Paediatrics, Neonatology, Paediatrics surgery, Cardiology & Nutrition.
Paediatric Surgery
:
Senior consultant available at service.
Vaccination and Immunization Clinic:
Immunization in OPD

Mandatory and optional Vaccines
Childhood care at its best
.
• General Paediatric care.
• Breast Feeding counselling.
• Tracking Growth and Development, Dietary advice.
• Discussion on men born Health Problems.
• Parent education on child development.
• Childhood infection and Medical conditions.
• Management of childhood behavior problems.
Trauma Clinic:
"Children fall, and learn and we yearn to leave only scars!
Adolescents & Mental Health Clinic:
It is hard for our child to transit to an adult all of as sudden! Let's carry off some on our Shoulders too. . .
Innovative Plastic surgery Cleft Lip and Palate care:
Plastic surgery Service available 24 hours
Speech Therapy & Audiology Clinic:
For assessment of speech delay and other speech related problems
Asthma Clinic:
Let your child breath stress free
Nutritional Rehabitation:
For all kinds of nutritional underweight/overweight, or unhealthier it be recruping from illness, Nutritional advices is given. Dietician also available at services.
Out Patient Services
For booking, please contact: 0496 2701800