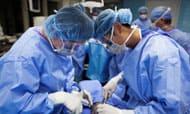 General Surgery

About the Department
Our General Surgery Department has a team that stands itself above par in maintaining quality education and operative care. MMC hospital is privileged to have renowned consultants with immense teaching experience and acquired advanced training in newer modalities of surgical treatment protocol like Laparoscopic surgery.
Academics to PGs has been much another area of sunshine , where Surgery Department of MMC provides expertise training and masterly tutorials in various training required for a PG. We are proud to have our training has moulded most of the students to be successful and capable enough to stand as the strong pillar in their own walks of life. We also provide round the clock cross departmental consultations, Emergency and OPD services.
Clinical Focus
Our clinical focus has been:-
Lap Cholecystectomy

Lap Appendicectomy

Lap Hernia repair – IPOM ,TEP , TAPP

Thyroid Surgery including malignancy

Head and Neck surgeries

Parotid Gland surgery including malignancy

All Breast surgeries including Carcinoma breast

All Abdominal surgeries including hollow viscus and solid organ pathologies ( Benign and malignant)

Open Inguinal mesh Repair surgeries for Hernias

Vac Dressings for Bed sores

Hemorrhoidectomy, Fistula and fissure in ano repair, perineal abscess drainage

Rectal prolapse

Varicose veins

Varicocele, hydrocele, torsion of testes
The surgical and emergency trauma team has been in best optimized working atmosphere in this Malabar region and has been successfully engaged in the best trauma care protocol.
In Malabar Medical College Hospital, our department has grown sky high with deep rooted principles of Student and Patient care values. We promise that we would serve the hopes of the patients who seek our attention in the best possible way that we could.
Infrastructure
Academic Expansion and Our Future Vision:-
The Department has been providing training to undergraduate and postgraduate (MS) and (DNB) General Surgery students. Contribution is also extended to teaching curriculum of BDS, para medical and nursing courses run by the institution.
Creation of divisions to enhance surgical sub-specialization & excellence in patient care
Adoption of newer teaching methodology: computer generated modules, skill lab, OSCE
Up-gradation of cadaveric teaching for various levels of training – Cadaveric Dissection and Real time Surgical dissection
Expanding areas such as multi-visceral organ transplantation
Establishment of Minimal Invasive Surgery Training Center
Annual ATLS programs for new House surgeons and Post graduates
Structure of the Department:
Comprises of 3 units:
S1 unit
Dr Lakshmanan – HOD
Dr Asha - Professor
Dr Shameem – Professor
Dr Barjees – Assistant Professor
Dr Parikshith – Junior resident
Dr Jose – Junior resident
S2 unit
Dr Ajesh Gopal – Professor (Unit Chief)
Dr Haris – Assistant Professor (Assistant Professor)
Dr Aashiq – Senior Resident
Dr Saif – Junior Resident
Dr Rani – Junior Resident
Dr Irene – Junior resident
S3 unit
Dr Thampan – Professor (Unit Chief)
Dr Lakshmi Narayanan – Professor
Dr David – Professor
Dr Dinesh – Assistant Professor
Dr Rajesh – Junior Resident
Out Patient Services
For booking, please contact: 0496 2701800
Publications
A study of the effect of Neoadjuvant Chemotherapy with Fac regime in locally advanced breast carcinoma.
Lymphoma of the thyroid gland : A clinicopathologic study over a period of five years in a tertiary care centre.
Incidence of hypocalcaemia after sutureless total thyroidectomy and conventional total thyroidectomy - A comparative study.
Post operative pain and length of hospital stay in open and laparoscopic hernioplasty - A comparative study.
A comparative study of haemorrhoidectomy under local anaesthesia versus spinal anaesthesia.
Clinical study of endoscopic findings in patients presenting with upper GI symptoms.
A study of prevalence and the profile of fungal infections in diabetic foot ulcers in a tertiary care hospital of Kerala.