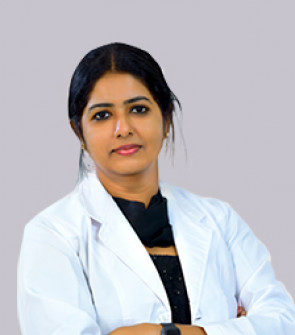 Dr. Mamtha George
Professor
Department Of Dermatology
She is a delightful and an inquisitive dermatologist. She is a very active member in professional circles. She completed MBBS degree from Kottayam Medical College and MD in Dermatology from KMC, Manipal in the year 2007. She has rich experience working in the Department of Dermatology at Government Medical College, Calicut. She has joined our esteemed institution and currently working as Professor in the Department of Dermatology.
Education
Accomplishment
Awards
1. Fullford Derma Foundation Scholarship for most meritorious post graduate student in Karnataka State - 2006.
2. Silver medal for the National IADVL quiz competition for postgraduates, DERMACON 2007
3. WCD (World Congress of Dermatology) Scholarship 2011 for Young Dermatologist - presented a scientific paper under free communication session at WCD 2011, Seoul, Korea.
Academic achievements
Publications
Journals
1. George Mamatha , Prabhu S, Balachandran C. Chronic idiopathic urticaria: Comparison of clinical features with positive Autologous Serum Sensitivity Test. Indian J Dermatol Venereol Leprol. 2008;74:105-8

2.. Rao R, Prabhu S, George Mamatha , Shenoi SD. Inflammatory pruritic nodules and plaques on the face. Indian J Dermatol Venereol Leprol. 2007;73: 142.

3. George Mamatha , Pakran J,Rajan U,Thomas S. Toe-tip purpura: Clinicopathologic challenge. International Journal of Dermatology. 2011; 50, 923–924.

4. George Mamatha , Rajan U, George S, Pakran J, Thomas S.Sub-polar lepromatous leprosy localized to the face. Dermatology Online Journal 16(9):8

5. George M, Rajan U, George S, Pakran J, Thomas S. Localized Psoriasis Herpeticum: Case report and review of literature .Indian Dermatology Online Journal. 2011;2:16-18

6. Mamatha George. Retapamulin: A Novel Antibiotic for Topical use. Kerala Medical Journal.2011;4:173-174

7. Pakran J, George Mamatha , Riyaz N, Arakkal R, et al. Purpuric macules with vesiculobullous lesions: a novel manifestation of Chikungunya. International Journal Dermatology. 2011;50:61-9

8. Pakran J, George Mamatha , Rajan U, Lekha T, Muhammed K. Lupus erythematosus tumidus. Indian J Dermatol Venereol Leprol. 2011 ;77:253

9. Snigdha O., Mamatha George, Binitha M. P., Sunitha Balakrishnan Clinical profile, etiology and histopathology of patients with erythroderma in South India Int J Res Dermatol. 2017 Sep;3(3):384-388

10. Sumi Thomas, Uma Rajan, Sandhya George, and Mamatha George, 'Postpartum Pemphigoid Gestationis' Indian J Dermatol. 2012 Mar-Apr; 57(2): 146–148

11. Khader Anza, George Mamatha, George Sandhya, Rajan Uma, Kunnummal Muhammed Syphilis of Fungal world: Novel Skin Manifestations of Histoplasmosis in an Immunocompetent host. Indian J Dermatol. 2012 Nov-Dec; 57(6): 504

12. Remya Prasannan, Mamatha George, Binitha M. P, Lekha T. Clinical and histopathological study of lepra reactions from a tertiary care center in South India. Int J Res Dermatol. 2017 Dec;3(4):512-516

13. George Mamatha, Santhosh Parvathy , Shamsuddin F. Tinea incognito presenting as erythroderma. J Skin Sex Transm Dis 2020;2(1):43-5

14. Santhosh Parvathy, George Mamatha . Letter to the editor: de novo Koebner phenomenon. Int J Dermatol. 2020;59(7):e248. doi:10.1111/ ijd.14851
Text book chapter
1. Mamatha George , Fibin Thanveer. Balanoposthitis , PG textbook of Dermatology)
Other Doctors In Department Of Dermatology