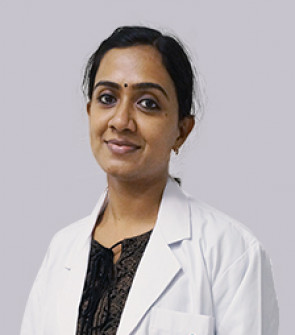 Dr. Navya V S
Assistant Professor
Department Of Dermatology
She is a blooming riveted clinician with academic excellence, attained MBBS from Government Medical College, Calicut and MD in Dermatology from Government Medical College, Kottayam. She is specialized in Dermatology and has a special interest in Cosmetology. She started career as Senior Resident in Calicut Medical College and worked for a year. She then worked in Lisa Skin Clinic, Calicut for a year as consulting Dermatologist and Cosmetologist and worked for a year in Urban Health Centre, Calicut as specialist Medical Officer. She joined our institution on 20 July 2020 and is currently working as Assistant Professor.
Education
Accomplishment
Academic achievement
Gold medal in Dr V Govindan Nair memorial award at National conference of IASSTD and AIDS held at Coimbatore in 2015
Publication
1. Nikhila P K, Santhosh P, Jensy KN, Sahadevan NV. Pachydermodactyly: A case report. J Skin Sex Transm Dis 2019;1[2]:107-9
2. Sahadevan NV, Skaria L, Sobhana kumari K. Cutaneous manifestations of end-stage renal disease. J Skin Sex Transm Dis 2021;3[1]:62-7.
Other Doctors In Department Of Dermatology