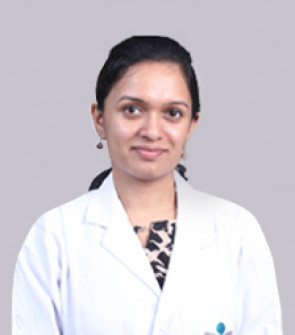 Dr. Parvathy Santhosh
Assistant Professor
Department Of Dermatology
She is a dynamic and proactive dermatologist with competent skills. She graduated MBBS from University of Kerala and MD in Dermatology from Calicut Medical College. She staged an exemplary performance in academics and gained first rank in MD Dermatology. She also attained a Specialty Certificate in Dermatology by the British Association of Dermatologist and Royal College of Physicians UK. She completed a year of Senior Resident in the Department of Dermatology in Calicut Medical College. She joined our Institution on 4th of January 2019 and is currently working as Assistant Professor.
Education
MBBS, MD, Specialty Certificate Examination in Dermatology (SCE)
Accomplishment
Prizes
1. First Rank – MD Dermatology Examination 2017 conducted by Kerala University of Health Sciences

2. First Prize- State Level- IADVL-GSK Post graduate Quiz 2016

3. First Prize- Torrent Young Scholar Award in Dermatology, South Zone 2016

4. First Runner up – Torrent Young Scholar Award in Dermatology, National level, 2016

5. Professor DK Gupta gold medal for best original research paper- DERMACON 2017

6. First prize- E- poster presentation- CUTICON 2016
Publications
1. Nikhila PK, Santhosh P, Jensy KN, Sahadevan NV. Pachydermodactyly: A case report. J Skin Sex Transm Dis 2019;1(2):107-9.

2. George M, Santhosh P, Shamsuddin F. Tinea incognito presenting as erythroderma. J Skin Sex Transm Dis 2020;2(1):43-5

3. Santhosh P, George M. Letter to the editor: de novo Koebner phenomenon. Int J Dermatol. 2020;59(7):e248. doi:10.1111/ ijd.14851

4. Sasidharanpillai S, Chathoth AT, Khader A, Reena Mariyath OK, Riyaz N, Binitha MP, Muhammed K, George B, Santhosh P, Roslind S, Paul N, Thomas MH. Predictors of disease severity in drug reaction with eosinophilia and systemic symptoms. Indian J Dermatol Venereol Leprol. 2018 Jul 23.
Research
1. A cross-sectional study of nailfold capillary changes in psoriasis

2. Clinicoepidemiological study of paederus dermatitis in a tertiary care institution in north Kerala.
Other Doctors In Department Of Dermatology