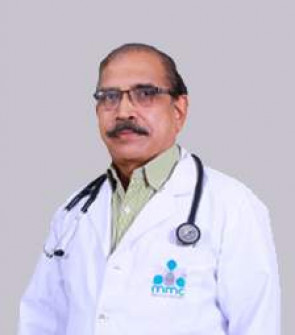 Dr P.T.James
Professor & HOD
Department Of Pulmonology
(Prof.) Dr. P. T. James is renowned senior retired accomplished Professor from government service. He is a multifaceted clinician with extensive competence in clinical skills, teaching and research. He is the current editor of Journal Pulmon which is the official publication of Academy of pulmonary and critical care medicine. He earned MBBS degree from T.D Medical College, Alappuzha in the year 1981, pursued DTCD from B.J Medical College, Ahmedabad in the year 1983, MD (Tuberculosis and Respiratory Diseases) from Government Medical College, Trivandrum and DNB (Respiratory Disease) in 1986. He started career as Tutor in Calicut Medical College and retired from service as Professor & Head of the department, Government Medical College, Calicut. His last assignment was as Professor & Head at AIMS, Kochi. He then joined our prestigious institution as Professor & Head of Department of Pulmonology since the year 2020.
Education
Accomplishment
Publications
Cardio vascular Co-morbidition associated with COPD ej bronchology Jan-2020 I.P.III.92.110.109

Awareness of health care workers, patients and visit regarding air born infection control in a tertiary care centre . Ind. J Tab: 2018 April b 5 (2) 168-171

Awareness of STCI among med. practitioners in Ernakulum district International journal of Pulmonary and Respiratory Sciences. 2019 vol-1 . Issue- 1

How we ensure 100% notification: experience from a tertiary case hospital in India . Public health action 7 (2) 179-180. June 2017

Outcome of patients treated with individualized ATT in a tertiary care centre public health action: 7(4) 308. Dec:2017.
Other Doctors In Department Of Pulmonology