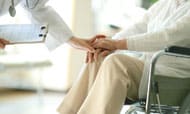 General Medicine

About the Department
General Medicine is one of the largest divisions in MMC.
Our department of General Medicine deals with the prevention, diagnosis and non-surgical treatment of various diseases. Physicians in our hospitals conduct a physical examination of the patient and then recommend necessary tests and diagnostic procedures. In specific conditions, after general internal medicine examinations, patients will be hospitalized. Physical examination and general examination are important in general internal medicine, which hints doctors, taking patients to hospitalize. These test results are included in patient diagnosis and treatment, hospitalized patients may be operated for further cure.
When a patient arrives with problems, the first method to detect is by knowing the symptoms of disease. Depending on this some primary tests such as blood, urine etc. will be suggested and further finalized on treatment.
Out Patient Services
For booking, please contact: 0496 2701800