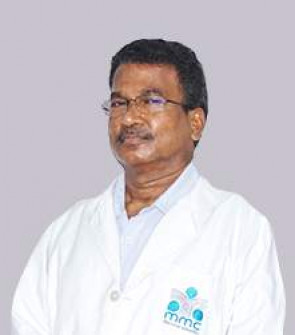 Prof. Dr. Kamalasanan. C .G
Professor
Department Of General Medicine
(Prof.) Dr. Kamalasanan is a distinguished faculty inquisitive in research. He has completed his MBBS degree from T.D Medical College, Aleppey and did his post graduation in MD from Manipal University. He has membership from Royal College of Physicians (UK). He completed Ph.D in Medicine from Calicut University. He then earned Fellowship from Royal College of Physician and Surgeons Glasgow, UK. He also accomplished speciality certificate in Endocrinology and Diabetes from UK. He has worked as faculty of Medicine in King Khalid University. He has started his career as Resident Medical Officer in government service and retired as Professor from Government Medical College, Calicut. He joined our prestigious Malabar Medical College & Research Center on 1st June 2021. He has many publications in national and international journals.
Education
MBBS, MD, MRCP(UK), PhD, FRCP(Glasg)
Endocrinology and Diabetes SCE RCP(UK).
Accomplishment
Publications
1. Proportion of nonalcoholic fatty liver disease and its correlation with coronary artery disease in patients with type 2 diabetes mellitus April 2021 PARIPEX-Indian Journal of Research 6(5):5-6
2. Sputum positive pulmonary tuberculosis coexisting with squamous cell carcinoma of lung. Paripex - Indian Journal of Research. 2018; 7(6): 95-96
3. Antibody positive myasthenia gravis associated with Chiari type 1 malformation and thymoma. Journal of Medical Science and Clinical Research. 2018; 6(6): 115-18
4. Room-air Pulse Oximetry: effects of Smoking, Age, Gender, Blood pressure, Respiratory rate and Body mass indexAugust 2019 DOI:10.18535/jmscr/v7i8.110
5. Parkinsonism and Amnesia as Rare Neurological Manifestations of Scrub Typhus - July 2019 DOI:10.18535/jmscr/v7i7.15
6. Acute polyneuropathy resembling Guillain Barre Syndrome in Eosinophilic Granulomatosis with Polyangiitis January 2019 DOI:10.18535/jmscr/v7i1.170
Other Doctors In Department Of General Medicine