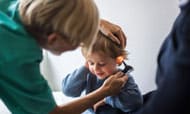 ENT

About the Department
The Department of Otorhinolaryngology (ENT) at Malabar Medical College and Research Centre offers comprehensive care for all disorders related to the ear, nose, throat , head and neck regions, in patients of all ages. Our ENT department is equipped with state-of- the -art technical support for both diagnosis and treatment for management of all ear, nose, throat and related diseases.
Our Out Patient Department functions from 8 am – 2pm on 6 days a week (Mon- Saturday). We have an evening OP from 3 pm to 6.30 pm on all days and a twenty four hour casualty service for all emergency ENT cases. We have a well equipped procedure room attached to the OPD with facilities for Nasal endoscopy , video laryngoscopy , Oto endoscopy, Microscopy of ear and all minor ENT procedures.
Our Operation Theatre has sophisticated equipments including Karl Zeiss operating microscope, Stroz nasal endoscopes and Medtronic debrider system to mention a few. All hearing restoration surgeries , Middle ear microscopic surgeries, endoscopic nasal surgeries, sinus surgeries, Skull base surgeries, DCR, microlaryngeal surgeries, snoring and sleep apnea surgeries, salivary gland surgeries and thyroidectomies are performed regularly.
Clinical Focus
The ENT department offers management for all types of diseases of ear, nose and throat and head and neck. We specialize in
Management of hearing loss including microscopic ear surgeries
Management of vertigo
Nasal endoscopic surgeries
Septorhinoplasty
Management of epistaxis
Surgeries for voice restoration
Infrastructure
Audiology & Speech Pathology Services
1. Pure Tone Audiogram
2. Impedence- Tympanometry - Acoustic Reflex
3 Speech Audiometry
4. Special Tests- TDT, STAT, SISI, ABLB, MCL, UCL etc.
5. Auditory Brainstem Response Study : BERA, ASSR, Tone burst ABR, MLR, LLR
6. Vestibular Evoked Myogenic Potential C- VEMP
7.Newborn Hearing Screening Unit
8. Hearing aid trial fitting & Programming
9. Hearing aid Accessories & Repair
10. Speech & language Evaluation & Therapy
11.Voice Therapy, Therapy for Dysphagia
Out Patient Services
For booking, please contact: 0496 2701800
Publications
Effectiveness of oral itraconazole in the management of otomycosis with tympanic membrane perforation: - Dr. Aju Ravindran, Dr. Sagesh.M, International Journal of Research in Medical science 2017 April 5(A):1373- 1376.
Effectiveness of cartilage window with button technique in treatment of pseudocyst pinna - Dr. Aju Ravindran, Dr. Sagesh .M International Journal of Medical and Health Research ISSN: 2454-914.
Facial nerve paralysis: a Clinical study, Dr. Shilpa. K S , Dr. Sagesh M: International Journal of Otorhinolaryngology and Head and Neck Surgery : Vol.5 (2019) Print ISSN: 2454- 5929.
Does Combining a Labyrinthine Sedative with Epley's Manoeuver influence the treatment outcome in BPPV : Dr. Shilpa K S.
Role irrigation of external &middle ear with diluted acetic acid in multidrug resistant pseudomonas infection of external &middle ear : Dr. Aju Ravindran .Dr. Shilpa K S.
A Systematic review of treatment of Idiopathic Sudden sensoryneural Hearing losss: Dr Shilpa K S, Dr. Aju Ravindran.
Other Activities
Academic Activities for Under Graduates
The department is actively involved in undergraduate (MBBS) teaching programme. Our UG teaching programme includes didactic lectures, Clinical case presentations, symposiums, observation of operative cases and skills training. Regular periodic assessments and evaluation are conducted for theory and practical sessions. Undergraduate Students are also encouraged to attend quiz programmes conducted in other institutions, as a part of their training.
Presently, we have an annual intake of two post graduate seats. Post graduate teaching is largely exponential and supplemented with skills training, case discussions, seminars and journal club. PG's are actively supported and guided for dissertations, projects, publications and presentations. Services of a departmental library and atemporal bone dissection laboratory is also available. In addition, post graduate training is in service with the students taking on call duties, supervised by the Medical Officer.