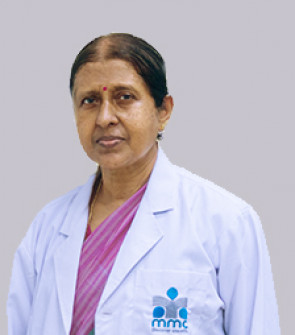 Dr. Kusumam V N
Professor and Unit III Head
Department Of Gynaecology
She earned her MBBS degree from GMC, Calicut in the year 1983, her DGO in the year 1987, and her MD (Obstetrics and Gynaecology) in the year 1994. She started her career as lecturer in Calicut Medical College and retired from Government service as Additional Professor. She joined our esteemed institution in the year 2020 as Professor in Department of Obstetrics and Gynaecology.
Education
Accomplishment
Publications
1. Post sterilization ectopic pregnancy in a tertiary care centre in North Kerala. J.Evid .Based Med. Healthc. 2017; 4 (19),1067-1071. DOI: 10.18410/Jebmin/ 2017/209
2. Fetomaternal and neonatal outcome of preterm premature rupture of membranes. J.Evid .Based Med.Healthc. 2017; 4 (74), 0000-0000.DOI: 10.18410/ Jebmin /2017/1. 3. Comparison of effectiveness of mifepristone -misoprostol combination versus mifepristone Foley EAS (Extra amniotic instillation of saline) combination in second trimester pregnancy termination. Indian journal of Obstetrics & Gynecology researches. 2018: 5(4): 530- 534
4. Role of amnioinfusion on neonatal outcome in cases with meconium stained amniotic fluid.J.Evid based med .Health C, 2016, 3(8), 4394-4397. DOI: 10/84/Jebmin/2016/935.
5. Comparative stages of pap smear abnormalities NS HIV infected and HIV non infected Indian journal repeated contraception Obstetrics & Gynecology 2016; 5:783-7.
6. Comparison of maternal & perinatal outcome in elective repeat cases of C. section done before 39 weeks & those done after 39 wks of gestation. Journal of evolution of medical & dental sciences, March 2015. VOL-4 Issue 18.
7. Morbidity of caesarean delivery: Comparative study between early and advanced Stages of labor in an Indian tertiary care. Indian journal of Obstetrics & Gynecology, 2013; 2, 646-50.
Other Doctors In Department Of Gynaecology