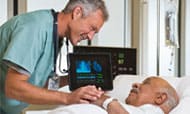 Cardiology

About the Department
The Cardiology Department provides the best of services in terms of accurate diagnosis and professional treatment. The experienced team of doctor's specializes in cardiac by-pass surgery, minimally invasive surgery, interventional cardiology, and non-invasive cardiology. We also provide ambulatory systems for emergencies along with non-invasive image processing, echocardiography, stress tests, cardiovascular CT's and thallium heart mapping among many others. Our paediatric division also diagnoses and treats cardiac issues in new-borns and foetuses alike. The Department has an ensemble of top cardiologists in India with advanced technology and the best practices in Non-invasive cardiology, Interventional Cardiology, Electrophysiology and Paediatric Cardiology.
Cath Lab
The Most modern Cath lab with the state of art imaging facility and also having the least adverse effects of radiation is installed at Malabar Medical College. Our Ultra Modern Cath lab turns to be the first of its kind in North Kerala. Our most sought after intervention Cardiologists with vast experience in handling the complicated angioplasties makes Malabar Medical College the right destination to save you from your heart ailments.
Sub Specialties
1. Paediatric Cardiology
MMC Hospital has a specialized multi-disciplinary team of paediatric cardiologists, paediatric surgeons, anaesthesiologists and paediatric intensivists. The team is solely dedicated to work towards child cardiac care. Several cardiac techniques for children have been pioneered by the team. The department caters to extensive echocardiographic work on children and focusses in detecting cardiac defects in unborn children using specialized echocardiography techniques.
2. Electrophysiology
The Department of Electrophysiology offers world-class diagnosis and treatment options for heart rhythm problems (cardiac arrhythmias). The experienced team of doctors performs comprehensive invasive procedures for treatment of cardiac arrhythmias. In addition, we offer specialized treatments and therapies like pacemakers, defibrillators and ablations for supraventricular tachycardia (SVT), amongst others.
Clinical Focus
CORONARY ARTERY DISEASE (CAD)
The coronary arteries supply the heart with the necessary oxygen and nutrients it needs to function. Over time, fatty deposits called plaque can build up inside the arteries, clogging the passages and reducing the flow of blood. If the coronary arteries develop plaque, blood flow to the heart can be compromised.
Eventually, blood flow to your heart muscle gets reduced, and because blood carries much needed oxygen, your heart muscle is not able to receive the amount of oxygen it needs. Reduced or cut off blood flow and oxygen supply to your heart muscle may lead to problem like:
Angina: Chest pain or discomfort that occurs when your heart does not get enough blood.
Myocardial Infarction (MI): MI happens when a blood clot at the site of narrowing in a coronary artery suddenly cuts off most or all the blood supply to the part of the heart muscle. Cells in the heart muscle begin to die if they do not receive enough oxygen-rich blood. This can cause permanent damage to the heart muscle and may even result in death.
Over time if untreated, CAD can weaken the heart muscle and contribute to:
Heart failure: In heart failure, the heart can't pump blood effectively to the rest of the body. Heart failure does not mean that the heart has stopped or is about to stop. Instead, it means that the heart is failing to pump enough blood the way that it should.
Arrhythmias: Arrhythmias are abnormalities in the normal beating (rhythm) of the heart. Some of them can be quite serious / life threatening.
SYMPTOMS OF CAD
The following are the symptoms a person with significant narrowing in coronary arteries may experience:
A squeezing / suffocating pain arising in the center of your chest and sometimes migrating to your arm, neck, back, throat, or jaw
Shortness of breath
Loss of sensation / abnormal sensation in your arms, shoulders, or wrists
SPECIAL CARE UNITS/DIAGNOSTIC EQUIPMENT/FACILITIES
Treadmill Test (TMT)

Echocardiography (Colour Doppler)

Stress Echocardiography

24 Hour Holter Monitoring

Ambulatory BP Monitoring

Stress Thallium Test

64 slice CT angiography

Coronary and peripheral angiograph

Electrophysiology Study

Endovascular Suite (For the first time in India)

Flat Panel Cath Labs with stent boost technology
Modern procedures to safeguard and ressurect human heart is carried out in the department.
Percutaneous transluminal coronary angioplasty (PTCA)

Temporary Pacemaker Implatation (TPI)

Permanent Pacemaker Implantation (PPI)

Electro Physiological Study (EPS)

Peripheral Angiogram (PAG)

Peripheral Angioplasty

Renal Angiogram &Angioplasty

Balloon Mitral Vavotomy

ICD (implantable cardioverter defibrillator )

CRT (cardiac resynchronization therapy )
Infrastructure
Our Cardio Departement is open 24 Hours and equipped with an Ultramodern Cathlab and other essenstial facilities. The Cathlab (Catheterization Laboratory) is with the state of art imaging facility with the least adverse effects of radiation and the first of its kind in North Kerala.
The 12 bedded intensive care unit and Flat panel Cathlab places Malabar Medical College in the elite list of Cardio Vascular Disease Treatment Hospitals in South India. This addition is a new feather in the cap of Malabar Medical College, in our efforts to provide affordable and comprehensive healthcare to patients of North Kerala. Cardiac catheterization is now safer, faster and more comfortable for patients at Malabar Medical College.
Precision echocardiography, 64-Slice CT scan, 1.5 tesla MRI scan and an advanced medical laboratory complement the technical facilities of the center. Our rich experienced staff has been selected on the criteria of exquisite skill in interventional cardiology and intensive critical care management.
Out Patient Services
For booking, please contact: 0496 2701800