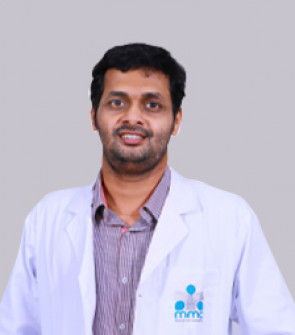 Dr. Sandeep Sankar
Assistant Professor
Department Of Anaesthesiology
He earned MBBS degree from Rajeev K. S. Hedge Medical College, Banglore in the year of 2008, DAC Dip in Anaesthesia in the year 2014 from Amrita Institute of Medical Sciences, Kochi and completed the Fellowship in Regional Anaesthesia and trauma from Ganga Hospital Coimbatore in 2015. He worked at Apollo Hospital, Banglore for 1 year, after which he completed his DNB in Anesthesia from MIOT International Hospital, Chennai in 2018. Then joined our prestigious institute in the year 2018 as Senior Resident and is currently working as Assistant Professor in the Department of Anaesthesiology.
Education
MBBS,

D.A,

DNB ( Anaesthesiology)
Fellowship in Regional Anaesthesia and Trauma:- Ganga Hospital, Coimbatore, 2015.
Other Doctors In Department Of Anaesthesiology