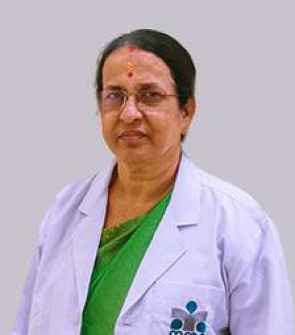 Prof. Dr. Sumangala Devi
Professor and HOD
Department Of Gynaecology
Prof. Dr. Sumangala Devi is our esteemed faculty with over 36 years of work experience in the field of Obstetrics and Gynecology across various medical Colleges in Kerala. She was former HOD at Calicut Medical College and is now heading the Department of Obstetrics and Gynecology at MMC. She is experienced in managing various high-risk pregnancies like hypertensive disorders, diabetes, multiple pregnancies, antepartum hemorrhage, recurrent pregnancy loss, etc. She is also an expert gynecologic surgeon and performs surgeries like hysterectomies, staging laparotomies, myomectomies, surgeries for prolapse etc. She is also experienced in laparoscopic surgeries, urogynecology and USG. She has special interest in management of high risk pregnancies.
Education
Accomplishment
1. Risk factors for neonatal hyperbilirubinemia: A case control study- International Journal of Reproduction, Contraception, Obstetrics and Gynecology, Jan 2017

2. Feto-maternal outcomes in Abruptio Placenta - International Journal of Science Research -2015

3. Obstetric outcomes of teenage pregnancy in comparisons with pregnant woman 20-29 years- A retrospective study.

4. Epidemiology of complete Hydatiform Mole at a tertiary hospital and analysis of cases over last 5-year period – Indian journal of Maternal and Child health, 2011.

5. Combined Spinal Epidural Anesthesia in a parturient with, kyphoscoliosis, chronic hypertension and transverse lie- Indian Journal of Anaesthesia and Analgesia-Jun 2017.

6. A case of severe pre-eclampsia presenting as acute pulmonary oedema. International Journal of Reproduction, Contraception, Obstetrics and Gynecology, March 2016.

7. Bladder endometriosis. Journal of Obstetrics and Gynecology of India. 2008.
Other Doctors In Department Of Gynaecology