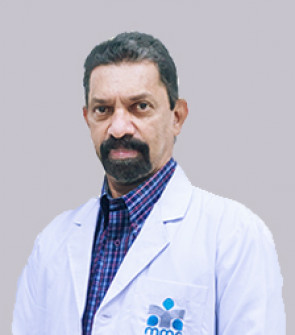 Dr. S Vinayachandran
Professor and Unit II Head
Department Of Gynaecology
He started his exemplary career in the field of Obstetrics and Gynaecology after achieving his MD from MG University and DGO from Delhi University. He obtained his MBBS degree from Kerala University. He served in Government Medical College, Calicut for 31 years and was retired as Professor. He has established a firm reputation as an authority in Obstetrics & Gynecology in general, and Infertility, in particular. He joined our institution in 2020 under the designation of Professor in OBG Department and has been contributing ever since. He has various national and international publications in his name. He is an expert laparoscopic surgeon with special interest in management of high-risk pregnancies, infertility and laparoscopic surgeries.
Education
Accomplishment
Publications
1. Study of perinatal outcome of pregnancies with intrauterine growth restriction in a Tertiary Care Centre in North Kerala. Journal of evidence Based Med.Healthc. 2008
2. Analysis of Semen studies of 200 Men attending an infertility clinic in a tertiary care centre'. Journal of Evolution of Medical and Dental sciences. 2017.
3. Correlation of Spot Urine Albumin and 12- Hour Urine Protein with 24 – Hour urine protein in pre- eclampsia. Journal of Evidence Based Med.Healthc. 2017.
4. Comparison of two different techniques of uterine closure in caesarean section. Continuous single layer technique versus BABU and MAGON technique. International journal of reproduction, contraception, obstetrics& gynecology. 2018.
5. PMD Initially diagnosed as partial mole. JOGI (Dec12)G2 (51): 546-548.
6. Cervical Teratoma". Indian journal of maternal and V Child Health. 2011.
7. A five years retrospective analytical study on maternal mortality in a tertiary referral hospital in northern Kerala, India – journal of SAFOG.
8. A cardiac Twin case report. Journal of evolution and medical and dental sciences. 2014.
9. Intussusception in pregnancy- A case report. IJSS case reports and review. 2014.
Other Doctors In Department Of Gynaecology